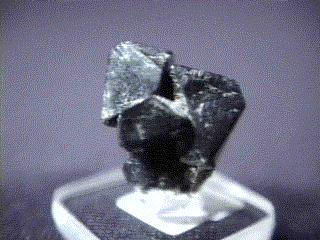 SPINEL
Specimen spi-2
$ 50.00
Dims: 7/8" x 3/4" x 1/2"
Wt: 8.1 oz
Parker Mine, Notre Dame de Laus, Quebec, Canada
This Spinel cluster is made up of 5 discernable crystals, the largest of which is almost 3/4" across its longest axis. All are black and opaque, with what seem to be blue-black highlights. They also all show the classic octahedral crystal shape, and have a dull luster, with some heavy scratching on the crystal faces. Only one of the crystals is complete, whereas the other four are all missing portions. There is no visible host rock. This is one of the better thumbnails I've seen.