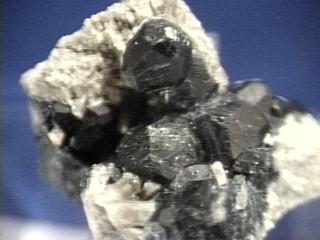 SPINEL
Specimen spi-1
$ 120.00
Dims: 3-1/2" x 2/38" x 2-1/8"
Wt: 8.1 oz
MacDonald Island vicinity, Northwest Territories, Canada
This specimen is composed of delightfully large (up to 3/4 inch diameter), black Spinel crystals in a white crystalline matrix whose identity I can't figure out. These crystals look a lot like blue-black garnets, in a cubic crystal shape that I'm having trouble digesting, as there are 4-, 5-, and 6-sided faces on every crystal. This is a super-neat piece, and the first raw Spinel crystals that I've ever laid eyes on.