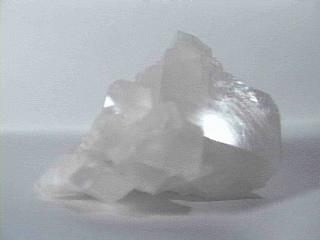 DOLOMITE
Specimen dol-7
$ 20.00
Dims: 2-3/4" x 2-3/4" x 1-1/2"
Wt: 3.3 oz
Mt. Brussilof Mine(near Radium), British Columbia, Canada
I count at least 7 distinct Dolomite crystals on this specimen. They all show good formation, though incomplete, and have a pearly luster on some faces and an almost vitreous luster on others; there is damage on every crystal, and likely some cleaving evidence. All of them are colorless and have unusually good clarity, approaching transparency. There is no matrix rock, although in two spots there is a dusting of what I think are microscopic platelets of magnesite.