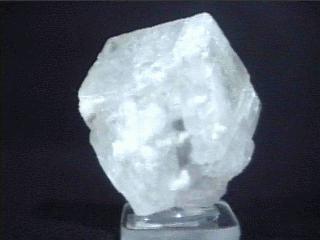 DOLOMITE
Specimen dol-6
$ 70.00
Dims: 1-3/4" x 1-3/4" x 1/2"
Wt: 1.67 oz. w/ base
Mt. Brussilof Mine(near Radium), British Columbia, Canada
This specimen amazes me. Read the weight and the dimensions of it. Now, realize that the entire specimen is one single crystal! It's by far the largest individual Dolomite crystal that I have held in my hand. It has excellent, though interrupted, crystal form, a small amount of exterior damage for a crystal its size, and a pearly luster. Ah, yes, did I mention that it is colorless and apart from much internal fracturing, transparent?? I was wondering if it was actually twinned, but I'm pretty sure that it is an individual. There are one or two tiny, damaged clusters of magnesite on one side of the tablet; the specimen is attached to a small(tot. wt. approx. 10.5 g) acrylic base for display.