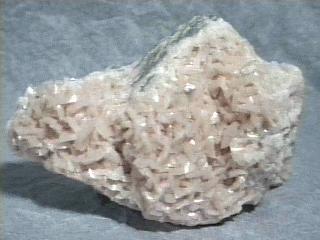 DOLOMITE
Specimen dol-1
$ 35.00
Dims: 6-1/4" x 3-3/4" x 3"
Wt: 2 lbs., 7.6 oz
Black Rock, Arkansas, U.S.A.
One of the larger of our available Dolomite specimens, this one has the classic pink, curved crystals that are associated with localities near Hot Springs in Arkansas. The crystals are of a medium size(1/8 to 1/2 inch in length) and have clean rhombohedral forms with curved faces. There is considerable damage to the crystals on the edges of the cluster, but most are in pristine condition. A few tiny crystals of chalcopyrite make a home, but they are barely noticeable. More eye-catching are three pseudohexagonal prismatic crystals of calcite, one of which displays a double basal pinacoid termination, another of which shows considerable damage. These lovelies rest on the obligatory gray limestone base that is also very common for Arkansas material.