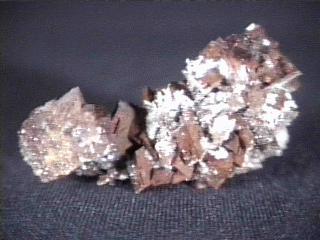 DOLOMITE
Specimen dol-3
$ 40.00
Dims: 3" x 1-3/4" x 1-1/8"
Wt: 2.18 oz
Vekol Mine, Pinal Co., Arizona, U.S.A.
I have not seen Dolomite occur in this nature before! It came to us under the name Ferroandolomite; David, our Geologist and general "fount of knowledge" said that we should classify it as a variety of Dolomite that has intense concentrations of included hematite. So be it! Needless to say, the crystals have the standard rhombohedral form with curved faces and edges of Dolomite, along with the pearly luster. However, the edges and faces are visibly straighter than those in regular Dolomite, and these have the rich, red-brown color of hematite powder. The largest of these crystals measures about 1/2" along an edge, and the smallest measures just under 1/4". There is no visible matrix rock. The entire cluster is covered with a light dusting of tiny, clear calcite crystals.