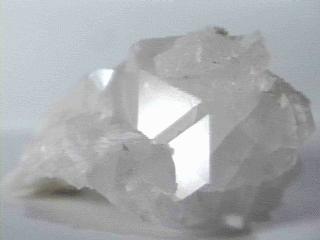 DOLOMITE
Specimen dol-5
$ 35.00
Dims: 2-1/2" x 1-7/8" x 1-1/2"
Wt: 3.6 oz
Mt. Brussilof Mine(near Radium), British Columbia, Canada
I would have put this specimen under the "magnesite" specimen list because of the supposed rarity of it in crystal form, but I thought the Dolomite crystals on the piece were so much neater! There are 3 of these crystals that I can detect on the specimen, and they make up the bulk of it, being surrounnded by several curved and sharply-edged tablets of white magnesite. Ergo, the Dolomite crystals are quite large, one spanning over 1 inch across a secondary face. Their most impressive trait stems from the fact that they are colorless(no pink stuff here!) and they are incredibly clear. One can see internal fractures with close scrutiny-- on a first glance, one would think that it is actually Iceland spar calcite! All three crystals show noticeable damage(the largest having the least, surprisingly) and may have been cleaved in some spots, due to the fact that some faces show an almost vitreous luster, while most of the undamaged ones show more of a pearly luster. There is no attached host rock, and the underside of the specimen is full of more Dolomite, heavily cloven(cleaved).