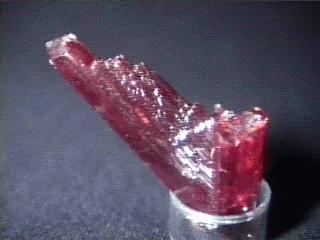 REALGAR
Specimen rea-5
$ 135.00
Dims: 2-3/4" x 1-1/8" x 3/4"
Wt: 1.25 oz
Shi Meng Mine, Shi Meng, Hunan Province, China
I like this Realgar specimen best of all because of its simplicity. There is not a confusing cluster of crystals, and everything is easy to see on it. That is because the specimen basically consists of one large crystal of Realgar that has a broken section of another crystal coming off of it at its base. The complete crystal measures 2-3/4" x 1" x 3/8", and is almost completely free from damage. The crystal, aside from substantial internal fracturing, is transparent, and has the deep red color that is associated with this mineral.