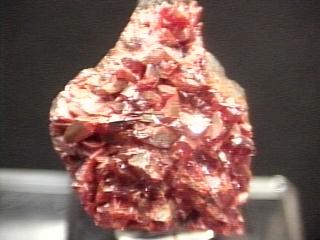 REALGAR
Specimen rea-1
$ 45.00
Dims: 2" x 1-5/8" x 2-1/8"
Wt: 6.1 oz. w/ base
China Realgar Mine, Hunan Province, China
Though this specimen closey resembles Crocoite, one whiff will tell you the difference; Realgar has a noticeable garlic/sulfur odor. The intense red of this specimen is caused by a tightly-packed cluster of crystals that reach almost 1/4 long. This isone of the best examples of Realgar that I've seen; you should consider it if you're looking for one.