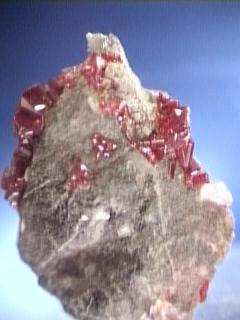 REALGAR
Specimen rea-2
$ 60.00
Dims: 3" x 2-1/4" x 1-1/8"
Wt: 3.6 oz
Shimen County, Hunan Province, China
Exceptional color and clarity mark this specimen as an example of Chinese Realgar. The crystals, when complete, are well-terminated and a deep-red color, containing internal fractures and flaws that one must look for to see. Along with the Realgar are several good-quality crystals of Calcite, including one base-to-base contact twin that makes a lovely scalenohedron! There are also tiny clusters of fibrous, radiating white crystals that I cannot identify! Somebody help!