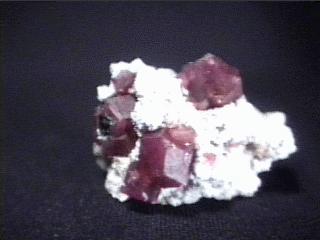 GROSSULAR
Specimen gro-8
$ 80.00
Dims: 2-1/8" x 1-3/4" x 1-1/4"
Wt: 1.47 oz
Sierra de Cruces, Coahuila, Mexico
Although only a dozen or so of these bright pink Grossular garnets are visible, the ones that are deserve some attention. The largest crystal measures approx. 1/2" in diameter, with 2 crystals nearby measuring slightly less, and several that range in size from 1/4" to 1/16" in diameter. One of the three largest crystals is heavily damaged, exposing its black core, but the others show only minor damage to corners or small variations on growth due to clustering. All rest on a matrix that has been eroded with an acid solution. This piece has some of the nicer pink garnets that we have available.