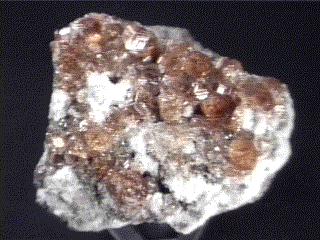 GROSSULAR
Specimen gro-6
$ 120.00
Dims: 3" x 2" x 1-1/2"
Wt: 7.08 oz
Jeffrey Mine, Asbestos, Quebec, Canada
Talk about splendid! Here we have a generous spread of pale cinnamon-colored Grossular garnets- they are not quite orange enough to be considered hessonites. They are near gem-quality, though, with excellent transparency and few inclusions or flaws. Their shape is a complex variation of the dodecahedron that almost makes me think of the term "inverted hopper-crystal"-- in other words, the secondary faces that surround the primary ones are gently stepped a bit(see the close-up image). This is a gorgeous specimen!