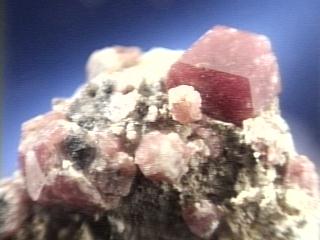 GROSSULAR
Specimen gro-2
$ 75.00
Dims: 1-7/8" x 1-3/4" x 1-1/4"
Wt: 2.3 oz
Sierra de Cruces, Coahuila, Mexico
These are something new from the realm of the taco. When I first saw these Grossular specimens from a distance of about 5 feet, I thought I was looking at yet another selection of crystalline Rhodocrosite, but no, I was fooled! These superb dodecahedral crystals are a bright pink color with clean faces and edges and noticeable damage on the larger crystals (which measure up to 1/2 inch in diameter). The pink color is deeper in these larger crystals, with damage occasionally showing a blackish core that the pink layer surrounds. The matrix, which resembles a decayed pegmatite, is cluttered with smaller crystals.