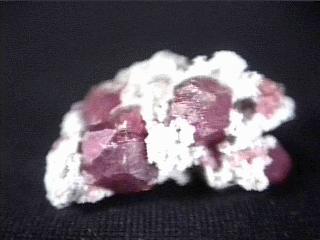 GROSSULAR
Specimen gro-7
$ 30.00
Dims: 1-3/4" x 1-3/8" x 1"
Wt: 20.7 g
Sierra de Cruces, Coahuila, Mexico
There are at least a dozen bright pink Grossular garnets in the matrix on this specimen. Some occur individually, and several are bunched together in a few clusters. All of them seem to have been formed in clusters, though, because none have a perfect or complete dodecahedral form. The three largest crystals(measuring 3/8" to 1/2" in diameter) are damaged, as are several of the smaller ones. The matrix seems to be calcium-rich, as an acid was used to expose the garnets. This is probably an appropriate gift for the budding collector with a thing for garnets.