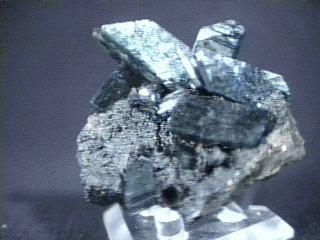 VIVIANITE
Specimen viv-6
$ 85.00
Dims: 2-1/2" x 2-3/8" x 1-1/2"
Wt: 2.71 oz
Morococala, Oruro Deposit, Bolivia
About 7 Vivianite crystals occupy this specimen from the prolific Oruro Deposit, the largest exceeding 1-1/4 inches in length and approaching 1/2 inch in width. The crystals are all a dark blue-green in color and range from near-transparent to opaque in clarity. Their luster is uniformly pearly. There is some noticeable damage to the crystals, but only if one searches for it- the specimen appears flawless upon first glance. These crystals rest on a bed of what I'm pretty sure is siderite- it is shiny, black, and is coated with many tiny botryoidal nodules.