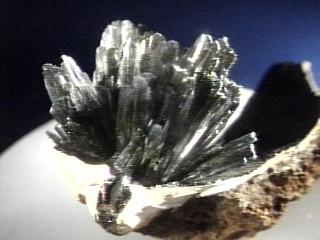 VIVIANITE
Specimen viv-2
$ 30.00
Dims: 2" x 1-1/4" x 1"
Wt: 22 g
Kertch, Crimean Peninsula, Ukraine
This Viviaite sample has a surprise to it. In between the seemingly Bauxite base and the crystal cluster, there is a layer of calcium carbonate material that is actually a fossil clam shell fragment! The Vivianite cluster is concentrated, with many bladed crystals in a tight formation, and the color is a bluish green that is so dark as to appear black on first glance.