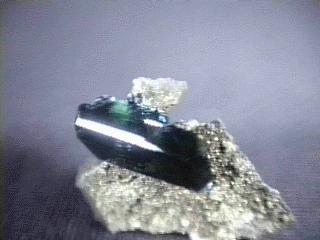 VIVIANITE
Specimen viv-3
$ 48.00
Dims: 1-3/8" x 1" x 7/8"
Wt: 13.5 g
Morococala, Oruro Deposit, Bolivia
I like simple mineral specimens; this one is no exception. It is thumbnail-sized, and consists of a singular crystal of Vivianite on a siderite matrix. This crystal has no damage whatsoever! It is perfectly shaped in the form of a pseudotetragonal prism with a basal pinacoid termination. It is transparent, and has a splendid dark green color with just a hint of blue! The end opposite the terminaton is exposed, and denotes a clean separation from another crystal, due to the clean, exposed and striated faces. I really like this!