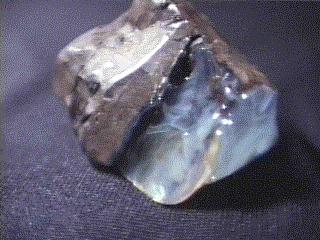 OPAL
Specimen opa-7
$ 20.00
Dims: 2" x 1-7/8" x 1-3/8"
Wt: 4.2 oz
"outback" area, Queensland, Australia
This particular opal specimen contains a rather large amount of Opal with no flash fire iridescence. However, it does have a gentle purple glow that pervades most of the silica gel, and there are many gentle, subtle, veil-like inclusions that are very beautiful and actually kind of relaxing to look at! They have been glazed over for protection and shine.