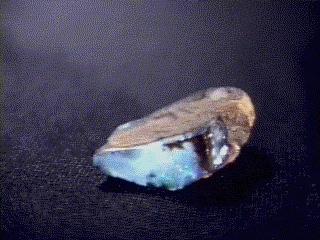 OPAL
Specimen opa-4
$ 20.00
Dims: 1-1/2" x 1" x 1/2"
Wt: 13.2 g
"outback" area, Queensland, Australia
Finally, some opal with the irridescence that makes it so pretty and valuable! This Aussie piece is composed of a flat, tabular chunk of brown, layered matrix, with precious opal on 2 of the thinner sides. Both precious areas display a blue-violet "glow", and have noticeable green flash. These "precious" areas have been coated with a glaze, not only to give them some "shine", but also to help seal in the color-producing microsphericles of water that is present.