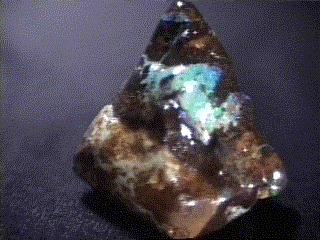 OPAL
Specimen opa-6
$ 35.00
Dims: 1-5/8" x 1" x 1-1/8"
Wt: 1.2 oz
"outback" area, Queensland, Australia
Though having a small amount of visible precious Opal, this specimen more than makes up for it with the intensity of the iridescence that the Opal has! Broad blue and green flash fire dominate the exposed gemstone, and some points of bright red are clearly visible. There is other exposed Opal on the piece that does not have such intense irridescence, but the color that is visible makes it all worthwhile! It is all glazed.