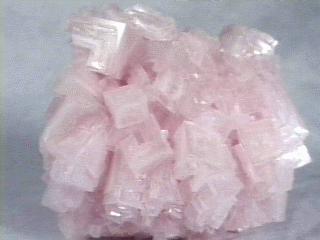 HALITE
Specimen hal-5
$ 30.00
Dims: 3-1/2 x 3-3/4" x 2-5/8"
Wt: 11.7 oz
Searles Lake, Trona, California, U.S.A.
This specimen is basically made up of a cluster of pink halite crystals- like most other evaporite products, it has no host rock. On the faces where it was not separated from the salt crust it came from, there are crystals up to 1 inch long or more along the edge. They all possess the cubic shape and waxy luster of salt crystals, and all show evidence of the "hopper effect". Their pink color is common for Searles Lake halite, and comes from the presence of bacteria trapped in the crystals.