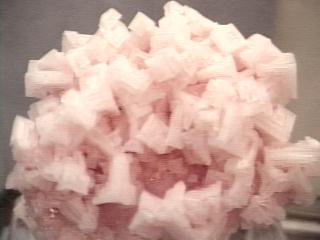 HALITE
Specimen hal-2
$ 45.00
Dims: 4-3/4 x 4" x 2"
Wt: 10.2oz
Searles Lake, California, U.S.A.
This lovely Halite specimen is colored pink by bacteria that were trapped when the salt precipitated out of solution. Its largest crystals approach 1 inch in all dimensions and show good examples of a form known as "hopper crystals," wherein the face of a crystal has formed concentric depressions in the shape of said crystal. Salt is delicate and highly soluble, and so should be kept in a safe, dry place.