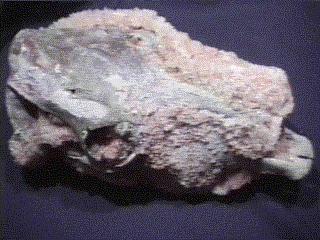 HALITE
Specimen hal-3
$ 600.00
Dims: 18" x 10" x 7"
Wt: approx. 30 lbs
Searles Lake, California, U.S.A.
The only word fit to describe this item is "unique". It is a cattle skull (minus the horns, unfortunately) that has been half covered with a thick crust of crystalline pink halite! It's huge! The pink halite crystals achieve hoppered cubes that are 2" long on each side maximum. This is really an amazing specimen that we probably won't be able to replace.