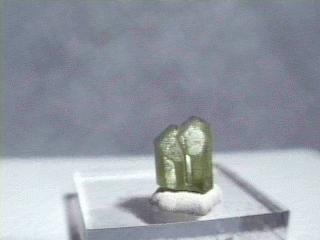 PERIDOT
Specimen per-4
$ 25.00
Dims: 7/16" x 5/16" x 1/4"
Wt: 1.4 g
San Carlos Reservation, Arizona, U.S.A.
This crystal is somewhat like a "two-for-one special"; there are 2 crystals that interpenetrate along their y-axes. They run parallel to each other and looking down upon their terminations, it looks like they are "Siamese twins," two identical crystals that are joined together. They both have excellent form, with clean though sometimes damaged faces and edges. Their luster is vitreous to waxy, and with a 15-power loupe I was able to find 3 or 4 dark needles of an unknown mineral included in them. They have a uniform yellow-green color.