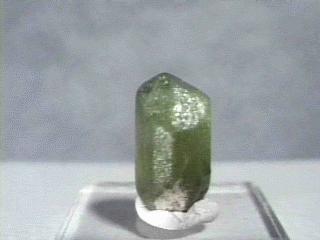 PERIDOT
Specimen per-1
$ 50.00
Dims: 13/16" x 1/2" x 3/8"
Wt: 4.2 g
San Carlos Reservation, Arizona, U.S.A.
This is the first complete Peridot crystal that I have seen. Its sides are heavily striated with a very fine "pebble" pattern, so it's difficult to determine the transparency and clarity of the crystal. Its edges are quite rounded, but crystal form is visible and definite. Looking at light passing thorough it, one can determine at least 3 internal fractures or flaws beneath the surface. Its color is a moderately deep yellow-green. I just happened to see these in a vendor's room at a show, and took every one that he had(there were only a few to begin with).