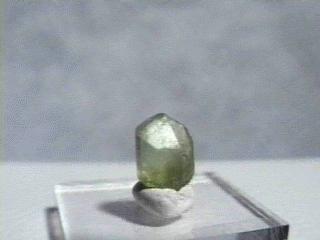 PERIDOT
Specimen per-2
$ 20.00
Dims: 7/16" x 3/8" x 1/4"
Wt: 1.0 g
San Carlos Reservation, Arizona, U.S.A.
A rather small crystal, this Peridot specimen has imperfect but definite form and good clarity. It is quite transparent, but has a large inclusion running from base to termination that looks like an internal fracture. Its luster ranges from vitreous to waxy, due to a pattern on most faces that resembles wear, but is actually part of its growth. The color is a medium yellow-green.