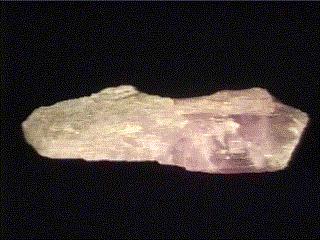 KUNZITE
Specimen kun-5
$ 60.00
Dims: 4-3/8" x 1-1/2" x 5/8"
Wt: 2.89 oz
Northwestern Frontier Province, Pakistan
This specimen of gemmy Spodumene has a considerable mass. It consists of one crystal that ranges from pink to gray in color and from vitreous to waxy in luster. The pink end of the prism has a relatively complete termination that resembles an inverted chevron in shape, with the primary faces made up of several smaller, curved faces. There may be a small amount of damage to it at the termination tip, but the general structure of the termination makes it difficult to determine. The crystal fades in color and in luster along its prism faces to a dull gray. However, there are definite, if incomplete, termination faces at this end, too. The crystal may have simply underwent some heavy weathering at that end- it was perhaps the end that was protruding from a pegmatite. Anyway, it is impressively-sized and has an interesting variation.