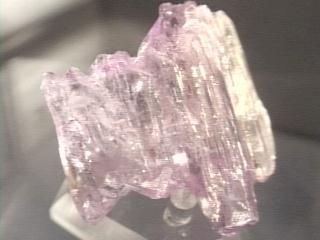 KUNZITE
Specimen kun-1
$ 150.00
Dims: 1-3/4" x 1-3/4" x 1/4"
Wt: 1.1 oz
Northwestern Frontier Province, Pakistan
One of our finest specimens of Kunzite, this Pakistani masterpiece is a symphony in rich, pink color, odd crystal form, and clean, curved terminations. It is Steve's favorite piece because the weird terminations are natural, not break-off points! The crystal looks as if it is made up of several crystals that are intergrown to form a parallel association. Its odd terminations are possibly caused by partial-healing after breakage, but may simply be caused by varying growing conditions during its formation. It has a pale pink color and a bright vitreous luster, and is transparent and quite clear, though a few internal fractures are visible. It is positively beautiful!