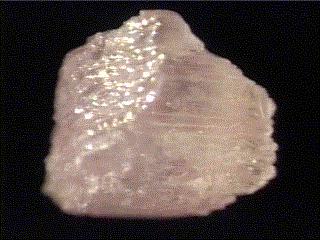 KUNZITE
Specimen kun-4
$ 26.00
Dims: 1-1/2" x 1-1/8" x 1-3/8"
Wt: 1.8 oz
Northwestern Frontier Province, Pakistan
This particular Kunzite specimen appears to have been broken at both ends and then partially healed before it was discovered. There are no large termination faces that one would expect for a crystal this diameter, but there are many small ones among the craggy basal faces. Its color is a medium pink and it has a pearly luster on its prism faces and a vitreous luster on its basal ones. As the close-up image shows, it glows readily under longwave UV light, although the glow is much more purple than the image shows. There is a small amount of broken albite in the crevices on one side of the specimen, accompanied by a tiny bit of muscovite mica. Due to much internal fracturing, I think that this piece would make a better specimen than a potential gemstone.