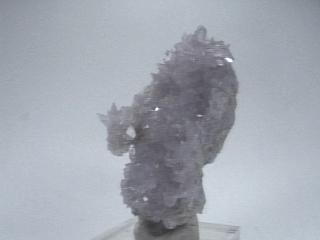 CREEDITE
Specimen cre-2
$ 70.00
Dims: 1.7" x 1.2" x 1.2"
Wt: 20.3 g
Hall Mine, Nye County, Nevada, U.S.A.
Though a relatively small specimen, this piece boasts large crystals. These Creedite prisms have a diamond-shaped cross-section, sloping termination and achieve a maximum length of almost 1/4"(6 mm)! The amount of definition and lack of damage are not common for crystals this size, especially on a small specimen. The crystals are a pale pink color with a hint of violet and are slightly transparent, being a bit foggy like rose quartz. They have a surprisingly shiny, vitreous luster. So much Creedite is infused in the host rock that it is difficult to define. The specimen is attached to a square acrylic base with a tacky putty. This is one of the nicest quality specimens of Creedite that I have seen for its size.