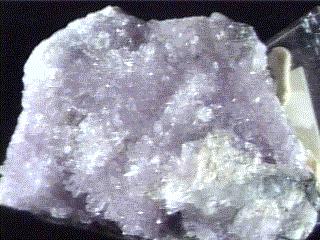 CREEDITE
Specimen cre-1
$ 70.00
Dims: 2-3/8" x 1-3/4" x 1-1/8"
Wt: 3.3 oz
Hall Mine, Nye County, Nevada, U.S.A.
This specimen is the standard product for this American locality. Its monoclinic crystals are small (3/16" max. length) and prismatic, but showing radiating tendencies from several central points. They are a lavender color and transparent, and cover about 35% of the host rock, which seems to consist of massive Quartz and a variety of Feldspar, with tiny veins of Pyrite or some other sulfide. This is some very pretty stuff! Ah, yes, it fluoresces, too!