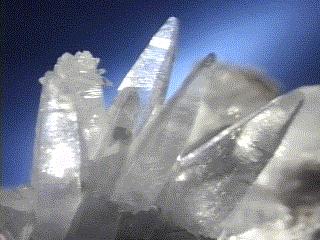 CELESTITE
Specimen cel-5
$ 150.00
Dims: 4-1/2" x 2-3/4" x 2-1/4"
Wt: 11.3 oz
Malagasy Republic, Madagascar
I've not seen this shape in Celestite crystals before. They are long, measuring up to 1-5/16 inches in length, and narrow, with a base diameter of 1/2 inch or less, and tapering up to points! Their shape reminds me of that of Stibnite or Jamesonite, but this is Celestite we're talking about here! Needless to say, the color is a lovely sky blue that deepens towards the terminations, and these long lovelies are quite transparent. Steve was greatly pleased when he saw this specimen; so was I, and so, hopefully, will you be!