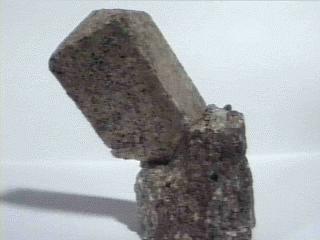 SANIDINE
Specimen san-2
$ 40.00
Dims: 1-1/2" x 1-5/8" x 1-1/4"
Wt: 1.84 oz
Beaverdell, British Columbia, Canada
Another specimen from what seems to be a prime Sanidine locality, this Canadian crystal has all the hallmark traits of the feldspar variation: excellent crystal form that has almost no damage, a grainy consistency, the lack of lamellar twinning, and a locality known for producing such material. There is a small amount of host rock that the crystal is attached to that contains small grains of what appears to be quartz, and other small, broken Sanidine crystals. The specimen may have been broken out and glued back into place, but it is difficult to be sure, as no glue is visible. There is, however, a small area on the matrix that is flattened and smooth where another crystal was probably broken off. A small portion of the matrix right next to the crystal is cracked and could be easily separated from the rest of the rock.