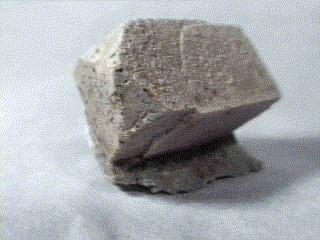 SANIDINE
Specimen san-1
$ 40.00
Dims: 1-1/2" x 1-5/8" x 1-1/4"
Wt: 1.84 oz
Beaverdell, British Columbia, Canada
Finally, I get to see what a crystal of Sanidine looks like! To tell you the truth, it looks a lot like some orthoclase that I've seen! However, the surfaces, though comprised of the natural crystal faces, are rougher in texture. It has the classic form of members of its kind, complete with penetration twinning. There is a small amount of attached matrix that is weakly attached and can be easily removed if so desired. It has excellent crystal form, and would make a good addition to the collection of a "feldspar fanatic".