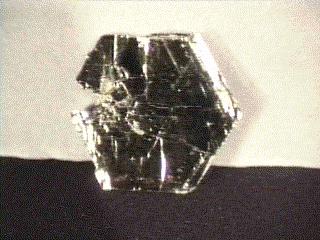 PHLOGOPITE
Specimen phl-3
$ 16.00
Dims: 2" x 1-3/4" x 1/16"
Wt: 6 g
Kovdor, Kola Peninsula, Russia
Like other specimens from this Russian locality, this book of Biotite shows excellent hexagonal form, with 5 clean, definite sides, and an unusual, green-black color. One of the six sides is incomplete, although part of it is still evident. There is a small, three-sided hole in the crystal where it looks like a tourmaline crystal intersected the book. Actually, according to the book's growth pattern, that seems to be the spot from which the book grew outwards. Neato! I wonder if that hole is due to a tourmaline crystal or a Phlogopite "core" that later came out?