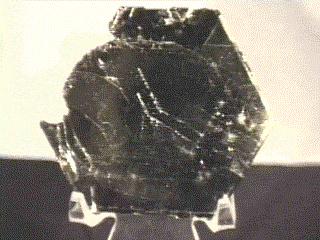 PHLOGOPITE
Specimen phl-2
$ 20.00
Dims: 2-3/4" x 2-1/4" x 1/16"
Wt: 12 g
Kovdor, Kola Peninsula, Russia
Once again we have a Phlogopite book with the dark, greenish-black color and pearly luster. Like others of its kind, this book has clean sides and a definite, visible pattern of growth from its center. Two of the six sides are incomplete, and one is completely missing, showing where the book was separated from its host rock. All in all, the book is very well-formed, though, and shows a definite growth pattern in its basal faces.