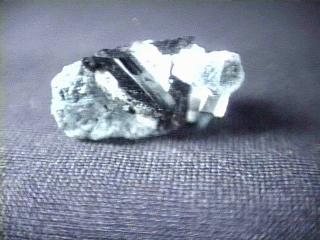 NEPTUNITE
Specimen nep-4
$ 52.00
Dims: 1-3/8" x 3/4" x 3/4"
Wt: 7.5 g
Gem Mine, San Benito Co., California, U.S.A.
This thumbnail specimen has 3 complete crystals, two partials with complete terminations, and two shards of fragmented crystals. All visibly crystalline material has clean sides and faces, with a small amount of damage- none of the crystals are in absolutely perfect condition. Each is black in color and has red-brown highlights that are visible at points of damage, and has vitreous luster. The largest crystal is also the least damaged. It measures almost 3/4" in length, and about 1/8" in width and shows evidence of double-terminating amidst the small amount of damage that it has. All rests on a bed of natrolite that coats a weathered serpentine host rock.