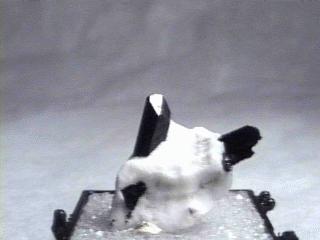 NEPTUNITE
Specimen nep-3
$ 60.00
Dims: 1-1/8" x 3/4" x 1/2"
Wt: 2.9 g
Gem Mine, San Benito Co., California, U.S.A.
A simple thumbnail specimen of Neptunite, this piece has two complete crystals on a natrolite crust. The larger crystal measures 1/2" x 3/16" x 1/8", and the smaller is proportionately half that size. Both have a black color and vitreous luster, and both are very well-formed, with clean faces and edges. The larger crystal has no visible damage, and the smaller has a large portion of a prism face missing, likely before the specimen was found, judging by its dirty state. There is a fragment of a broken crystal embedded in the natrolite nearby, and a tiny, incomplete crystal sticking out of the smaller complete near its termination.