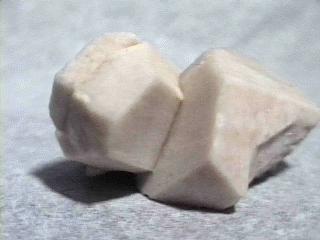 MICROCLINE
Specimen mic-2
$ 70.00
Dims: 2-1/2" x 2-1/8" x 1-3/8"
Wt: 3.27 oz
Crystal Peak Mining Dist., Lake George, Park Co., Colorado, U.S.A.
This specimen is made up of two complete crystals of Microcline that are growing out of a larger, incomplete crystal. The incomplete crystal measures 1-1/8 x 1-1/2 in width and depth(its length is severely curtailed due to breakage). Both of the other crystals have collective dimensions of 1-1/2" x 1-1/8" x 3/4"; they are completely free of damage, and almost identical in structure, probably due to the fact that together they form a Carlsbad Twin. Their color is the obligatory beige of most orthoclase crystals.