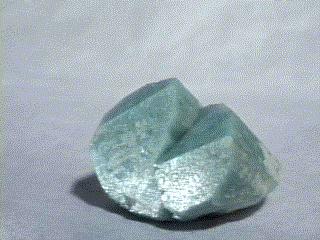 MICROCLINE
Specimen mic-1
$ 50.00
Dims: 1-5/8" x 1-1/2" x 1-1/8"
Wt: 1.86 oz
Two Point Mine, Florissant, Teller Co., Colorado, U.S.A.
Though incomplete, this Microcline specimen is quite beautiful. It is of the variety Amazonite, the blue-green Microcline that is sometimes cut as a gemstone. The specimen consists of two crystals that form a penetration twin. The break that separated the specimen from its place of formation is angled so that at least 3 sides are incomplete, and a small part of each crystal's basal pinacoid termination is missing. The crystal and termination faces that still exist are clean and free of damage. The color is a uniform, deep blue-green.