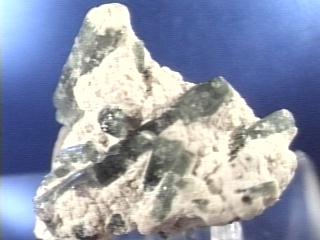 ELBAITE
Specimen elb-2
$ 195.00
Dims: 2-1/2" x 2" x 1-1/2"
Wt: 5.1 oz
Northwestern Frontier Province, Pakistan
Another Pakistani specimen, this piece is loaded with dark, blue-green crystals that can reach up to 2 inches long in a Pegmatitite matrix. Two or three of the larger crystals show the "watermelon effect," with pink cores that show a lot of internal fracturing. The smaller crystals are all monocolored and very clear, with some showing good terminations, if a little rough. There is also a small amount of Lepidolite Mica. This is a really beautiful specimen that shows a lot of contrast.