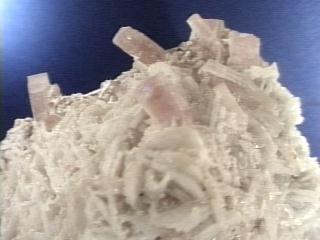 ELBAITE
Specimen elb-1
$ 220.00
Dims: 4-1/4" x 3-1/2" x 2"
Wt: 13.8 oz
Northwestern Frontier Province, Pakistan
This piece, being from Pakistan, is almost a gem-quality specimen by default. The star attractions are pink Elbaite Tourmalines, which are scattered randomly over a surface of Albite Feldspar. These tourmalines can actually fall under the category of "Watermelon Tourmalines," because their color comes from a pink core which is surrounded by a more colorless layer. Personally, I think that the crystals on the bottom of the specimen are even more interesting- there are some excellent and unusual terminations there. All one would need is a steel dental probe to clean them up!