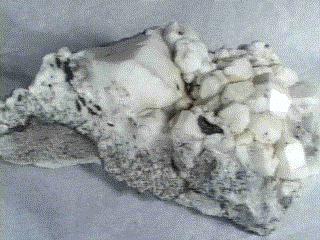 ANALCIME
Specimen ana-2
$ 110.00
Dims: 7-3/8" x 4" x 2-1/2"
Wt: 2 lbs., 2.5 oz
Poudrette Quarry, Mt. Ste. Hilaire, Quebec, Canada
Are you looking for a BIG specimen of Analcime? Here's one! It has several white crystals on it, measuring up to 2 inches in diameter. All of the crystals rest on a base that seems to be made up of nepheline that is infested with hornblende, and there are small amounts of biotite present. A few of the crystals are lightly damaged, one heavily so, but all the faces and edges on each dodecahedral crystal are clean and show a surprisingly good luster. This specimen has what I call "heft".