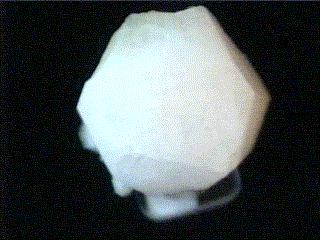 ANALCIME
Specimen ana-1
$ 30.00
Dims: 1-3/4" x 1-5/8" x 1-1/8"
Wt: 2.1 oz
Tunguska River, Krasnojarsku Region, Russia
A classic specimen, this tiny piece of the Russian homeland is in the form of a partial(4 complete faces, 8 incomplete) trapezohedron that would likely have exceeded 2" in diameter if it had been complete. Widespread internal fracturing seems to give the crystal most of its white color, and there are 2 smaller, poorly formed analcime crystals on the matrix that covers the incomplete portion of the large crystal. It has clean, if not shiny, faces that don't easily show their definition through digital video capture.