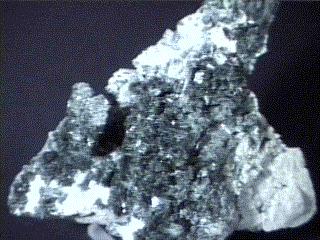 ACTINOLITE
Specimen act-2
$ 110.00
Dims: 8-7/8" x 5-1/2" x 2-1/2"
Wt: 3.1 oz
Hwy. 28 roadcut @ Hardwood Lake, Raglan Township, Renfrew Co., Ontario, Canada
Judging from the locality description, I'll wager that it would be easy to find out exactly where this specimen came from! There are dozens of Actinolite crystals on a base of another olivine-related material. These crystals show some heavy damage in some areas, but several are in surprisingly good condition, with complete terminations that themselves have a pretty, silky luster. One can just catch the translucence of some of the more exposed crystals, which can achieve lengths of 1 inch. It's a large piece that is somewhat "spread out", and quite thin in spots.