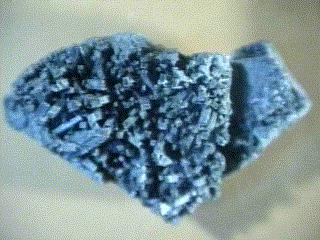 ACTINOLITE
Specimen act-1
$ 30.00
Dims: 3" x 1-3/4" x 1-1/4"
Wt: 3.1 oz
Calumet Iron Mine, Salida, Chaffee Co., Colorado, U.S.A.
I've seen a few of these specimens before; this is an example of a variety of Actinolite known as Uralite. Uralite is attractive to me because it looks completely fibrous! The entire specimen is composed of the material. The base is a gray color with a hint of green, and looks like compressed fibrous needles that go in random directions, whereas the crystals that grow out of the base seem to be composed of the same compact, fibrous groups of needles that all go into the same direction, and were compressed into crystalline shapes. They occur in long, thin prisms that appear almost pseudotetragonal; the angled basal terminations give it away upon close examination, though. I like this- it makes me think of asbestos that someone pressed into a complex mold!