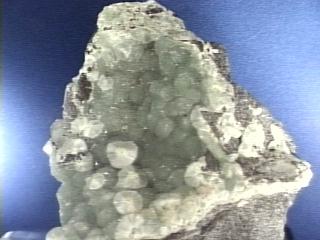 WAVELLITE
Specimen wav-2
$ 50.00
Dims: 5" x 4-1/2" x 1-1/2"
Wt: 11.2 oz
North Bay, Ontario, Canada(?)
The Wavellite in this little treasure is mostly unfractured, making a botryoidal crust that covers about 1/3 of the surface area of the specimen. In the middle of the face, three spheres rest atop the crust. They are split in half, showing the radial beauty that makes Wavellite so popular among collectors. This radial effect is also visible along the outer edge of the crust. This is an impressive specimen!