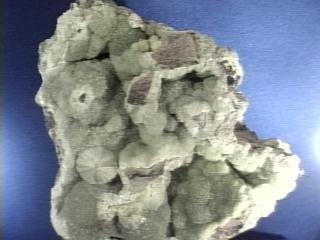 WAVELLITE
Specimen wav-1
$ 40.00
Dims: 5" x 4" x 1-3/4"
Wt: 1 lb., 1.7 oz
North Bay, Ontario, Canada(?)
Though not as richly colored as some of the Wavellites that I've seen, this specimen has over 50% of its surface area covered with the mineral. The unusual formation of the host rock leads to even more unusual formations for the Wavellite, which basically coats whatever shape the decaying Basalt matrix takes. There are lots of botryoidal and radial formations that give the collector neat stuff to look at, too! This piece gives you a sizable amount at the price.