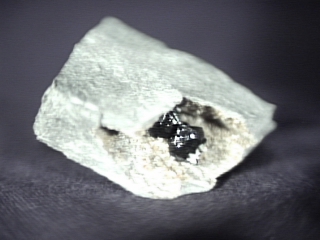 LIBETHENITE
Specimen lib-3
$ 150.00
Dims: 1.8" x 1.5" x 0.6"
Wt: 1.04 oz.(29.4 g)
Mindola Open Pit, near Kitwe, Zambia
In a hollow on this specimen rest the largest Libethenite crystals that I have ever seen. As there are several crystals that are interpenetrating, it is difficult to count how many there are, but one in particular appears to have an incomplete pseudooctahedral form. This particular crystal measures about 0.3"(7 mm) along an edge, and is the largest that I can see, though the others are not much smaller. They have a bright resinous luster and are so dark that one can only catch hints of its green color and translucence. The hollow that they rest in is lined with tiny crystals that are too small for me to effectively identify, and the host rock itself seems to be made of a shale. It is a pristine specimen of unusually large crystals of a very uncommon mineral.