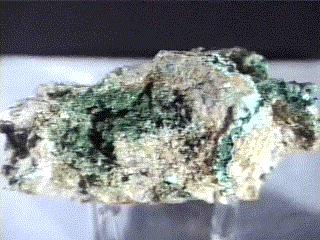 LIBETHENITE
Specimen lib-2
$ 70.00
Dims: 4" x 2-1/2" x 2"
Wt: 7.9 oz
Old Reliable Mine, Copper Creek, Pinal Co., Arizona, U.S.A.
In misshapen crevices throughout the host rock of this specimen lie carpets of almost microscopic Libethenite crystals. All of these carpets lie on beds of botryoidal turquoise or chrysocolla(I'd like to think that it's turquoise because we would be dealing only with phosphates). There may be minute amounts of azurite and/or malachite, and there are definitely many tiny, black globules of some decayed copper mineral that I can't identify. I believe that Libethenite is rather rare coming out of Arizona.